With the 1.3 release comes three new widgets. The biggest addition is support for ACF post relationships. It works in a similar manner as the Repeater with Template widget. You create an Elementor template with the post data you want to display. Then on the page you want to display the post youadd the "Relationship with template" widget and select the ACF Relationship field to use. Pretty simple but very usefull. Other new widgets are Repeating Testimonials and Repeater File List widget. Repeater File List widget renders a list of ACF File fields.
ACF Relationship widget
Repeating Testimonials Widget
Another new widget is the Repeating Testimonals widget. This works the same way as the single Testimonial Carousels widget but it displays the testimonials in a list instead. Future update will support random listing. It also includes new controls and styling that has also been applied to the Testimonial Carousel widget. Such as borders, vertical quote placement and more.
ACF File fields, dynamic tags & Repeater file list Widget
Previous releases of the plugin has had zero support for the ACF file field but that changes with this release. You can now make use of two new dynamic tags one for singular ACF file fields and also dynamic tag that can be used with repeater templates. You will also be able to use the new ACF Repeater File list widge to display a list of files when used with a ACF repeater field. The widget by default shows a list of the links using the file title but you can specify what should be shown instead.
The following fields are available to be selected in the dynamic tag ACF File dropdown.
URL
Title
Caption
Description
File Size
Mime Type
Published, Modified
Alt
Author, Author URL
Type, Subtyp
New site activation system
Version 1.3 now uses a similar system as Elementor Pro but also activate manually if you require that. After clicking the Connect and Activate button you will be redirected to the Goose Studio site where you can select which license you want to use. After clicking activate you are redirected to your site and license is activated.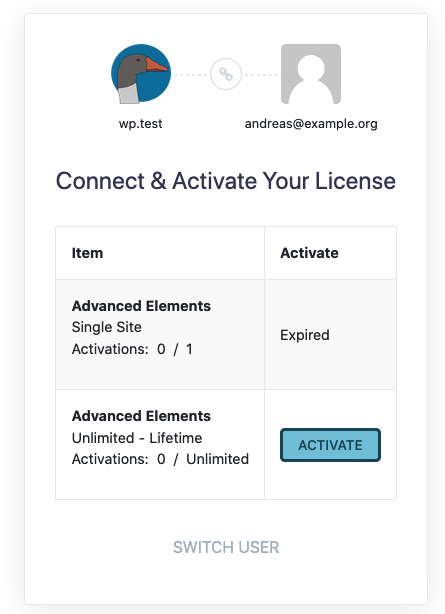 Changelog 1.3
Add form to connect and activate plugin license using Goose Studio user account
Add ACF Relationship With Template widget. Renders ACF Relationship posts using specified template.
Add ACF Repeatiing File list. A repeater list that only shows ACF File fields
Add Repeating Testimonials widget
Add support for new Elementor Icons control in Button, Accordions and Tabs
Add ACF Post Object dynamic tag
Add ACF File field dynamic tag and repeater dynamic tag
Add Slide Image dropdown to Slides
Add ability to disable mobile accordion on Tabs widget
Add box and quote styling to Testimonial carousel
Fix missing default size for Testimonial image
Fix missing default size for Testimonial Carousel image
Fix issue with dynamic tag repeater image when use as background image only displaying first row image
Fix jQuery not defined error with Slides
Fix not array warning in Slides widget
Fix fatal error occurring when Elementor deactivated or not installed
Fix Tab span font size in CSS file overriding widget tab font size
Fix issue with missing accordion error when previewing
Fix issue with RTL support with borders and vertical tabs
Fix default spacing for last and first child tab in Tabs
Fix issue with tab border styling priority on generated Elementor CSS
Fix issue with no wrapping of Tabs when tab disconnect disabled
Tweak widget UI for Testimonial Carousel
Tweak widget UI for Tabs for easier configuration of tab states